Looking for a unique way to promote your business?
Then consider listing it on the Margaret River Find the Fun™ Guide App and this website!
Visitors and locals love the free App because it has loads of handy information about the Margaret River Region and is extremely convenient and easy to use.
It is a complete guide that helps visitors to easily and seamlessly FIND YOU. No paper map or website can do this.
For people moving around in our region websites are pretty useless (as explained below). But the App works beautifully because it doesn't need the internet so it works always, everywhere!
You will not find a more comprehensive and useful resource for the region anywhere.
So if you want to reach these people you need to be listed on our Margaret River Find the Fun™ App on both Apple AND Android phones.
Download the booking form here
What's wrong with the internet and websites?
Simply put, websites stop working without an internet connection. Our region has poor network coverage, so websites and other Apps that rely on the internet to work properly are not useful.
Our Margaret River Find the Fun App avoids all of this drama as it does not need the internet.
People who are "out and about" cannot easily find your business using websites or social media, BUT they can EASILY find you using the Margaret River Find the Fun App.
Tap the distance button to then reorder listings based on your current location
Easily see where you are (blue dot) and what is close by
The App has a huge amount of information, is designed to look way better on small phone screens than a website, and is very simple and fast to use.
After a tourist has been for a swim, bike ride or hike they'll want to find somewhere to eat or taste wine.
The App's unique features ensure your business will be found!
OUR USERS LOVE IT.
Business-Owner Testimonials
I tell all of my customers about the App. I have a lot of them come back to tell me how useful it was, and they stay to have another meal. –Ryan, Artezen Cafe, Dunsborough
By telling my guests about the App, they then have an easy time finding everything in the region and they come back to the accommodation in a positive mood. This helps to make my business look great. –Kelly, Dunsborough Ridge Retreat
We have added the DL flyer for the App into our welcome bag for all of our guests. It has saved us having to answer, 'what can we do now' and 'where can we go next' questions dozens of times per week. It's a fantastic resource. -Steve,  Harvest Tours, Margaret River
And we've had many comments about how the App is a very valuable tourism resource. It makes it easy and enjoyable for tourists to navigate the region. And it's been shown that a happy tourist will spend more money, may stay longer and will tell family and friends. It's a win-win for everyone.
More Advantages of listing
Reach people who are ready to spend money.

They can see exactly where they are and precisely where you are and easily get to you–whether they have an internet connection or not.

Manage your listing—edit it as you wish.

Send us your changes periodically and we'll easily update your listing.
Your content is always current (try doing that on a paper map).

When internet is available the App will use it to:

Link to your website.
Email and phone you directly from the App.
They can do these things with 1 button press.

The App is convenient!

People always have their phone with them ready to provide information.
Tourism pamphlets and maps may be left behind in the accommodation.

It's not expensive! List for a year for $175 to $399.

This is a fraction of the price of a one-ninth page advert in the back of the local quarterly tourism association glossy magazine.
Isn't Margaret River Find the Fun™ a better use for your marketing dollars?
Not convinced yet?
Then please go to the App listing on the Google Play Store or the App Store to read more about what it does, see some screenshots and browse user reviews. Better yet, download the App or contact us and we'll pop by to give you a demo!
Sample Listing
You create your own listing using this website. The listing then appears in two places:
In the App (on both iPhones and Android phones):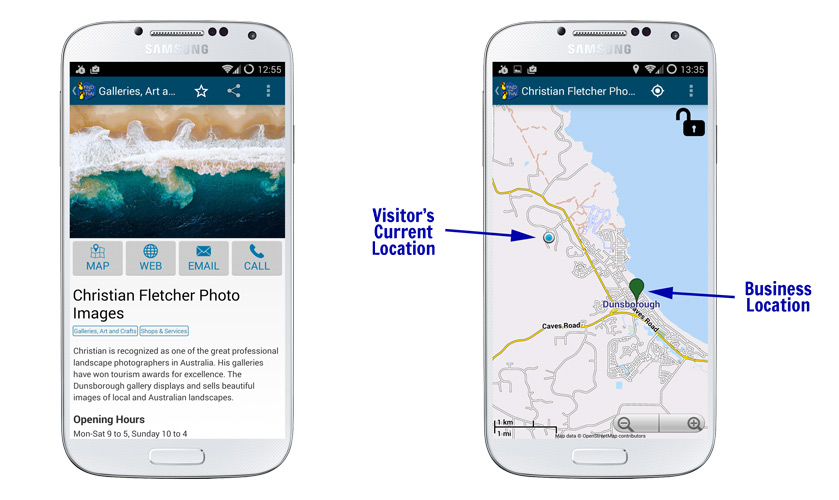 On the website, which targets those visitors who don't use a smartphone or don't have the App installed.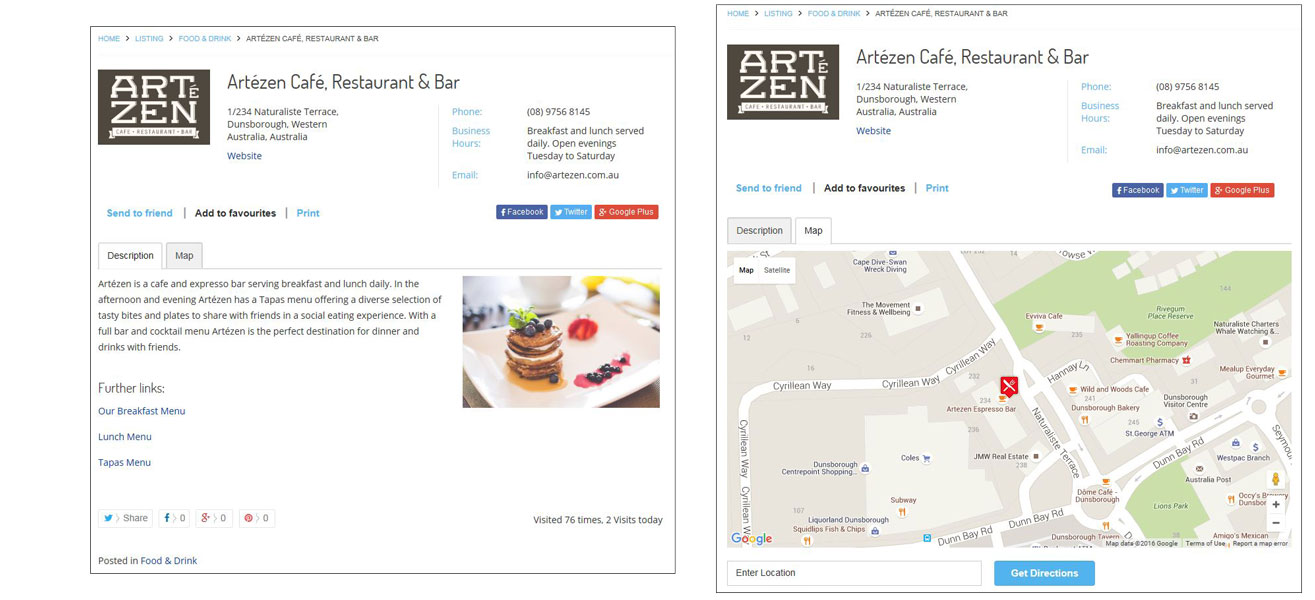 We've made it simple for people to find what they are looking for.
While they are here, they'll be looking for ways to spend their money, ideally at your business. READY TO LIST? Start by selecting a listing plan or download the booking form here.