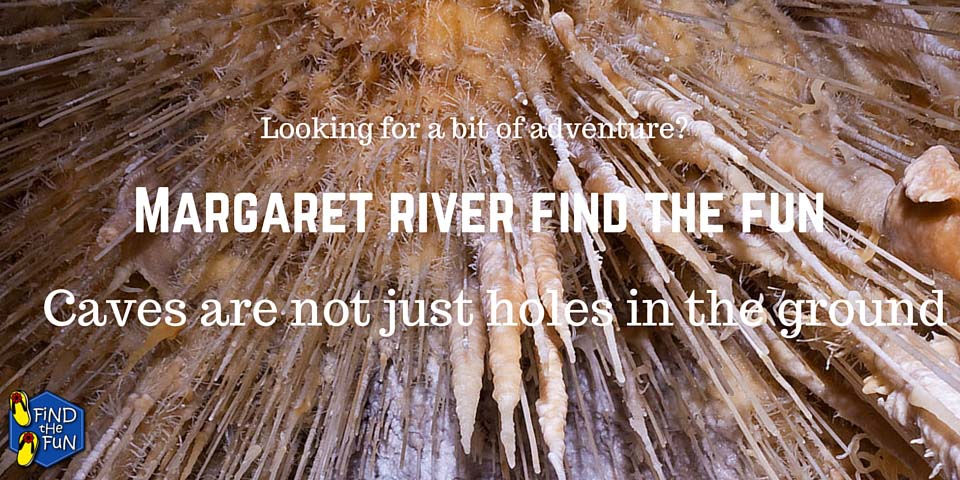 Did you know that the Margaret River Region is littered with caves? There are over 200 known caves, and probably many more that lie undiscovered; hidden because there is no external entrance into them.
Evidence of early human occupation still exists at Devil's Lair cave near Margaret River where the Noongar people lived about 48 000 years ago. This cave is one of the earliest sites of human occupation in Australia. A few of the local caves also contain fossil bones and other evidence from the now-extinct marsupial lion & marsupial tiger.
The region has a rich history of cave exploration that dates back to the 1900s. In those days, there was no modern safety gear or torches. Cavers used kerosene lamps, and many tales abound of explorers wading in chest deep streams while carrying open flames (if they dropped them in the water things would have gotten dark quickly!).
Although many of the caves were discovered after a bushfire opened up the landscape, one tale describes how a member of the Bussell family (early settlers of the region), inadvertently discovered a cave when she nearly rode her horse through the dense bush and into a huge open cavern while out looking for lost livestock.
Today, visitors can get underground in several caves that are open to the public, as well as have a wander through some beautiful bush along the way.
There are several commercial caves in the area, including Jewel, Lake and Ngilgi. All three of these are artificially lit inside and a guide will take you through them, which is all well and good, but if you are looking for more of an adventure, then consider visiting Calgardup and Giants caves, which are operated by the Department of Parks and Wildlife in Western Australia. These two impressive caves are both self-guided and unlit. The staff will provide you with a torch, helmet and a safety briefing before they send you on your way to explore at your own pace.
Calgardup is easy to explore as there are elevated platforms, stairs and railings to show you the way. Seating and interpretative signs are provided throughout the cave so you can relax and journey at your own pace without a guide. A seasonal lake with mirror-like reflections can be seen from spring through to summer. After winter rains you can also hear the seasonal stream trickling through the cave.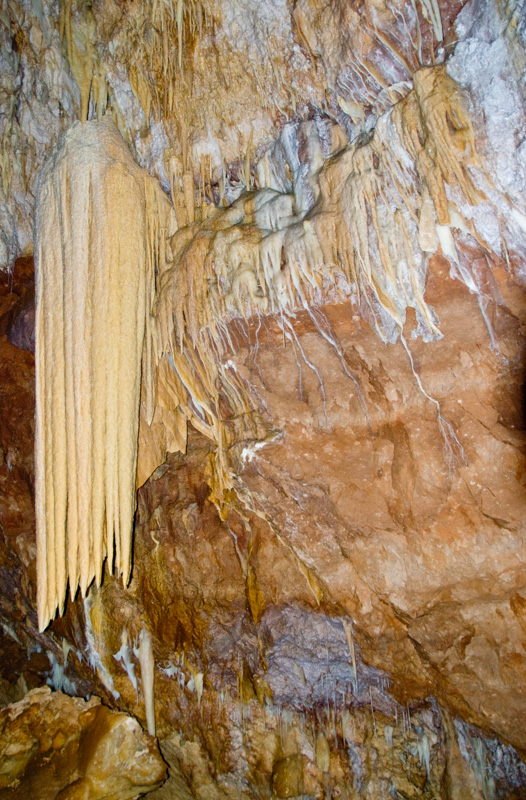 Just down the road from Calgardup is Giants Cave, which is a bit more adventurous with a few vertical ladders and tighter squeezes through small openings. With a length of 575 meters and a depth of 86 meters, it is the largest and deepest public-access cave in the region. It is a true adventure for those who have never been caving before.
The Visitor Centre at Calgardup provides information for Park visitors interested in abseiling and climbing, adventure caving, camping, bush walking, wildflowers and more.
Entry to Calgardup is from 9.00 am to 4.15 pm every day except for Christmas Day and Boxing Day.
Giants is open from 9.30 am – 3.30 pm during school and public holidays. It may also be open other times: please ring the Calgardup office for more information.
Children must be at least 6 years of age. Entry fees apply.
Contact Calgardup Cave on (08) 9757 7422.